From conference room to café, training to technical, we offer a wide selection of office table sizes, styles, and materials including the sophistication of solid hardwoods and granite, to the value of laminate.  In addition, Systematic Facility Solutions, LLC offers smart cable management options with built-in power and data.  Whether you need to furnish a conference room, outfit a training room, or add power and data to existing table, we have the table options that make sense.
Conference Rooms
A conference room table should be stylish and highly functional for both your employees and clients. The right table can greatly improve the dynamics of your meetings and productivity. Optional integrated power modules puts the data and electrical needs of today's technology rich conference meetings right at your fingertips. Laminate or wood, traditional or contemporary, Systematic Facility Solutions has a great looking table for your office.
Racetrack or oval-shaped conference tables are the best of both worlds when it comes to conference tables. They have the general shape of a rectangular meeting room table, yet the rounded ends make them less formal. They are meant to project a feeling of teamwork to the conference room.
Boat Shaped Conference Tables tend to be more formal and project that image, with a formal "head of the table" spot.
Round and Square Conference Tables encourage communication and collaboration, with the flexibility of setting up different layouts.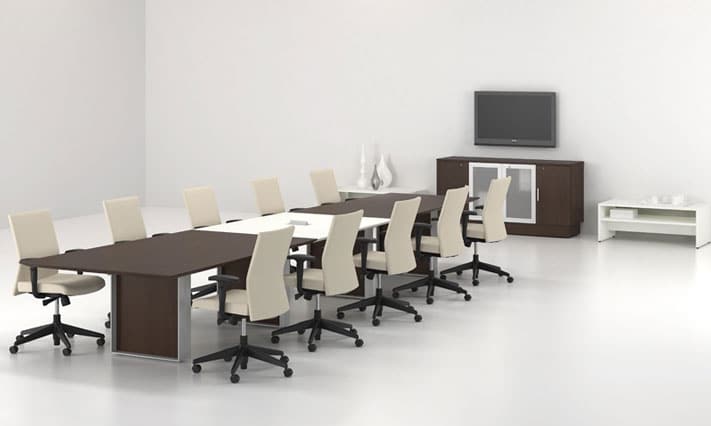 Training Rooms
Training Rooms are all about flexibility. What might be a small intimate meeting in the morning might be a large training secession in the afternoon. Mobile bases, quick release ganging hardware and optional electrical modules can make reconfiguring your tables a breeze. Systematic Facility Solutions has the shapes, sizes and options to fit the needs of any size space.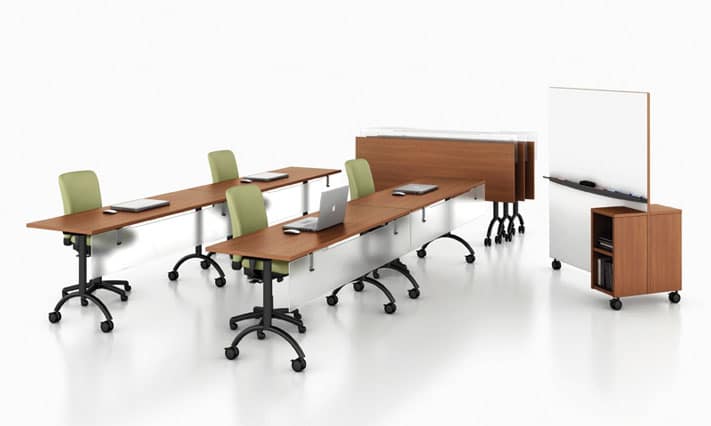 Break Rooms
Break rooms can provide excellent breathing space when employees need to temporarily decompress without leaving the premises. This is especially important for offices in tall buildings where getting to the bottom floor and stepping outside can take up most of a break. In a large city, this may be all your employees have to get away for a moment.
For this reason a break room needs to be open, uncluttered and preferably a room with a view. It can have a couch, kitchenette, carpeting, and should be kept clear of computers and other gadgets.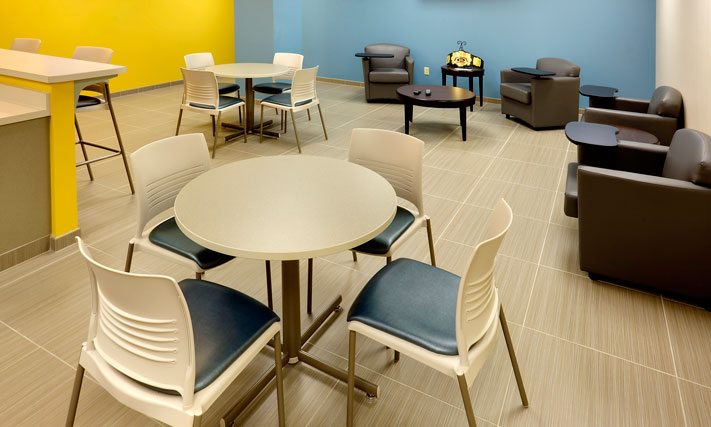 Ergonomic Sit-Stand Tables
Height Adjustable or Sit-Stand Desks, are wise investments for any person who spends more than a couple hours at a computer every day.
Prolonged duration of sitting have been shown to reduce productivity and increase health related work absences. Sit-Stand Offices are becoming more and more popular among younger and more health conscious executives.
A wave of new research indicates that sitting all day is actively damaging your health. By forcing a body designed for movement to hold a crushingly immobile position, sitting strains muscles, slows your metabolism, increases your risk of heart disease, and even shortens your life span.
Prolonged sitting is now increasingly regarded as the "silent killer" – also referred to as "Sitting Disease". According to a Study published in 2010 by the American Cancer Society Study in the American Journal of Epidemiology they found that:
Our range of both Pneumatic, Crank and Electric Sit-Stand Ergonomic Height Adjustable Desk Options, are designed to promote healthy and ergonomic work environments that provide health-conscious workers with an opportunity to Sit or Stand throughout the work day.